Fitting perfectly in a traditional bathroom, there is nothing better than a basin with a full pedestal. We have a wide range of basins and full pedestals from top manufacturers. All of our basins are made from the highest quality vitreous china ensuring long life and a pristine finish to compliment your bathroom. A pedestal basin hides the pipework behind your sink which connects to your taps. These full pedestal sinks are floor mounted which means they'll create a neat and clean look. We also stock a huge range of semi pedestal basins for Sale!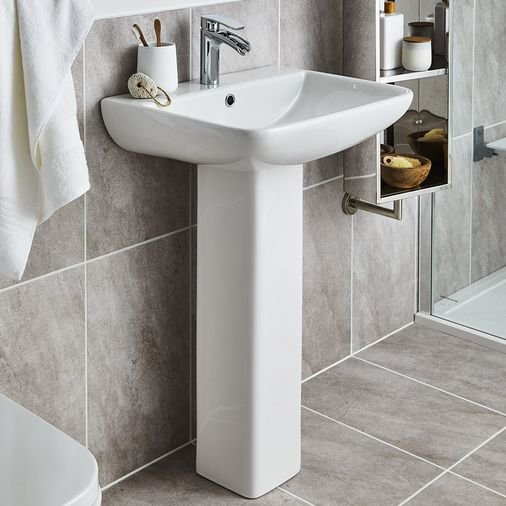 Choose Full Pedestal Basins at Affordable Online Prices
Nowadays people want their bathroom fully fascinated with all the possible facilities that include wash basin along with the toilets. And for this thing, the best option is to install Full Pedestal Basin that consumes the smallest space in the bathroom.
Full Pedestal basins are made up of two parts, one is a pedestal sink that allows water to be stored and flow through the second part known as a vertical pipe which is connected to the floor. This pipe is covered using a vertical pedestal that gives an amazing and natural look to the basin. Duravit Durastyle Full pedestal basin offers the best designs for the basins together with vertical pedestals.
This Full Pedestal Sink is easy to move from one place to another as it requires the least mechanisms for installation. Moreover, another reason to choose this type of basins is its rate. It is the cheapest basin among all types that will give the maximum size of greater than 500mm Full pedestal basin. RAK full pedestal basin provides a wide range of classic designer full pedestal basins in whatever size and colour you want. Contact us at sales@bathroomshopuk.com for more details
No products were found matching your selection.