Explore a wide range of corner shower enclosures online at low prices at a bathroom shop in the UK. England's best online bathroom shop. They are available in a number of different styles, shapes, and sizes, including walk-in shower enclosures and hinged doors. Corner entry shower enclosures are a sensible option for anyone trying to save on a bit of space in their bathroom. Explore our range of quadrant shower enclosures and offset quadrant shower enclosures for more options. Top-class corner showers from market-leading enclosure brand Matki Showering.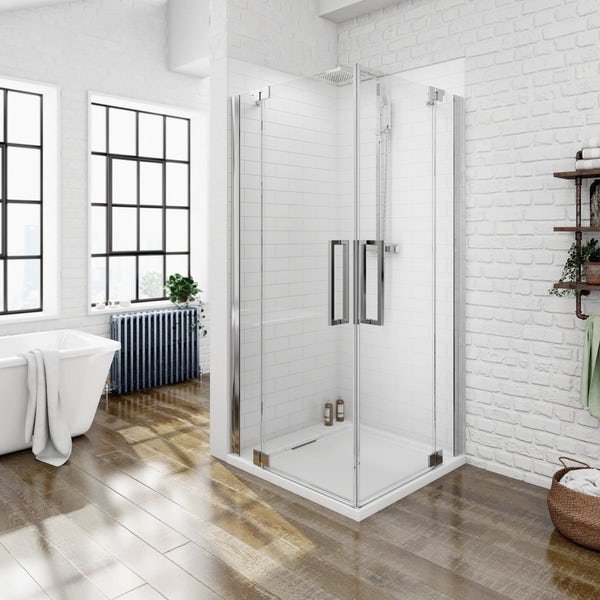 Corner Shower Enclosure – A Space-Saver Solution to Enhance Your Bathroom Beautification
Corner Shower Enclosure, also known as Corner Shower Cubicle is an ideal space-saver solution for your bathroom. It can places anywhere in your bathroom having proper plumbing facility, but the corner position is considered as an ideal position for a shower enclosure. When you go to buy an enclosure online for your bathroom, you will find many sizes and designs. You can fit Corner Shower Enclosure 760 mm between two walls to save space.  By having a gorgeous Corner entry square shower enclosure placed into the corner, you can focus more on the beautification of the remaining space of your bathroom.
You will get the best design and styles of Matki corner entry shower enclosure to give an elegant touch to your bathroom. With a side panel, it becomes a superb collection of semi-frameless glass and minimum chrome fittings. Moreover, using a fixed deflector panel creates a splash barrier to keep water inside the shower enclosure. You can use a matching hinged panel to make complete closure that enables no water escaping outside the enclosure. Matki corner entry shower enclosure is also available with a matching tray; this brand offers much flexibility to select the right type of corner shower enclosure that perfectly fits your bathroom space.
If you are looking for a cost-effective and best quality Frameless Corner Entry Shower Enclosure or Rectangular shower enclosure from any reliable bathroom shop, call us at 01924 267717 or write us at sales@bathroomshopuk.com