One of the most stylish ways to modernize your bathroom is to forego the traditional bath tap and fill your bath from the waste mechanism itself. The main benefits of bath overflow fillers are the ease of install and the uncluttered look they give your bath. The water emerges from a hole on the underside of the chrome circular overflow. An overflow bath filler is just a different way to put water into your bath​. View our selection of quality overflow bath fillers from market-leading showering brands VADO, Burlington, and more. We also stock the full range of bath filler taps at affordable online prices.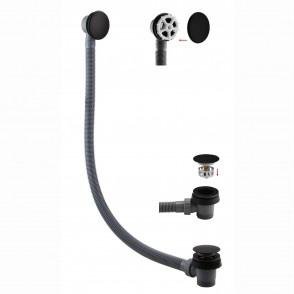 Explore a wide range of Overflow Filler Waste
An overflow filler waste is just a different way to put water into your bath. Located where you would normally find the waste overflow hole, the overflow filler is capable of filling your bath as well as taking excess water away by being hooked up to both the water pipe and the waste pipe. Combining the water outlet, overflow and waste control into a cohesive package, with the former into a single unit, Hansgrohe overflow filler waste is a sleek option for the bathing space that demands the best in contemporary design solutions. Cast in gleaming chrome and shaped into a classic round form, Burlington traditional filler waste bath filler and overflow units are a convenient option for those bathtubs that require external taps.
Bath filler tap usually consists of two taps connected onto the same bar with a shared water outlet. The cold and hot water feeds mix in the bar and comes out at the desired temperature. Vado bath filler tap is a fitting piece of brassware for the contemporary bathroom space. By utilising the simple but effective arrangement of cylindrical pieces to create the body and valves, it complements a range of bathtubs. Designed to be mounted to the bathtub deck area, it takes in hot and cold feeds into a central spout, with each feed controlled separately.
A bath shower mixer is typically a bar valve fixing that has both taps and a shower built into it meaning the user can have the best of both worlds, combining the functions of a tap and a shower.
Bath filler with waste is a more modern way of filling up your bath. Instead of bulk taps spewing from the rim of your bath, you could have a more modern and sophisticated alternative. Bath overflow fillers work by having the waste mechanism acting as your bath filler.
Victoria and Albert bath filler has rounded surfaces and discreet shaping allow you to quickly fill the bath with a simple twist of the mixer valve controls which can be placed anywhere that is convenient.